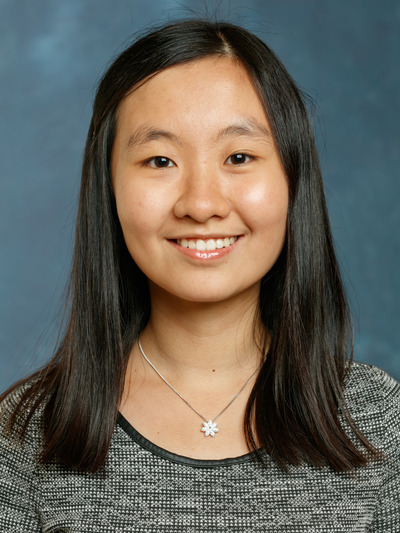 Danni Jin
Advisor: Karin Musier-Forsyth
3035 McPherson Laboratory
140 W 18th Ave.
Columbus, OH 43210
Aminoacyl-tRNA synthetases (ARSs) are major components of cellular translational machinery. My research is focused on the function of human glutamyl-prolyl tRNA synthetase (EPRS), a bi-functional ARS, and its relation to human diseases. Specifically, my goal is is to 1) characterize the interaction of EPRS with HIV-1 structural protein Gag and determine its underlying function in viral infection; 2) determine the effect of EPRS point mutations identified in human disease samples on protein functions and cell viability.
Publications:
Jin, D., & Musier-Forsyth, K. (2019). Role of host tRNAs and aminoacyl-tRNA synthetases in retroviral replication. Journal of Biological Chemistry, 294(14), 5352-5364. doi: 10.1074/jbc.REV118.002957. 
Dick, R. A., Barros, M., Jin, D., Lösche, M., & Vogt, V. M. (2016). Membrane binding of the Rous sarcoma virus Gag protein is cooperative and dependent on the spacer peptide assembly domain. Journal of virology, 90(5), 2473-2485.
Oral Presentations: 
Danni Jin, Yiping Zhu, Corine R. St Gelais, Nathan T. Kudlapur, Ronald C. Wek, Li Wu, Stephen P. Goff, Karin Musier-Forsyth. Role of the Bifunctional Aminoacyl-tRNA Synthetase EPRS in Human Diseases. 12th International Symposium on Aminoacyl-tRNA Synthetases, Hangzhou China, 11/5/2019-11/9/2019.
Poster Presentations:
Non-canonical Function of Glutamyl-Prolyl-tRNA Synthetase (EPRS) in HIV-1 Infection. Danni Jin, Yiping Zhu, Corine St. Gelais, Nathan Titkemeier, Alice Duchon, Li Wu, Stephen P. Goff, Karin Musier- Forsyth. 43th Annual Meeting on Retroviruses, Cold Spring Harbor NY, 5/21/2018-5/26/2018 
Interaction between Human Glutamyl-Prolyl Aminoacyl-tRNA Synthetase Linker Domain and HIV-1 Matrix: Implications for HIV-1 Infectivity. Danni Jin, Nathan Titkemeier, Yiping Zhu, Alice Duchon, Corine St. Gelais, Li Wu, Stephen P. Goff, Karin Musier-Forsyth. Rustbelt RNA Meeting, Indianapolis IN, October 2017 
 
Interaction between Human Glutamyl-Prolyl tRNA synthetase Linker Domain and HIV-1 Matrix: Implications for Viral Infectivity. Danni Jin, Nathan Titkemeier, Yiping Zhu, Alice Duchon, Corine St. Gelais, Li Wu, Stephen P. Goff, Karin Musier-Forsyth. Gordon Research Conference on Translation Machinery in Health & Disease, Galveston TX, 3/19/2017-3/24/2017
 
Interaction between Human Glutamyl-Prolyl tRNA synthetase Linker Domain and HIV-1 Matrix: Implications for Viral Infectivity. Danni Jin, Nathan Titkemeier, Yiping Zhu, Alice Duchon, Corine St. Gelais, Li Wu, Stephen P. Goff, Karin Musier-Forsyth. Gordon Research Seminar on Translation Machinery in Health & Disease (GRS), Galveston TX, 3/18/2017-3/19/2017
Interaction between Human Glutamyl-Prolyl Aminoacyl-tRNA Synthetase Linker Domain and HIV-1 Matrix: Implications for HIV-1 Infectivity. Danni Jin, Nathan Titkemeier, Yiping Zhu, Alice Duchon, Corine St. Gelais, Li Wu, Stephen P. Goff, Karin Musier-Forsyth. Rustbelt RNA Meeting, Cleveland OH, October 2016 
Grants and Fellowships:
2018 Travel grant from the Robin C. Burrell Memorial Fund, Dept. of Chemistry and Biochemistry
Leadership and Professional Experience:
2019 Served on OSU Student Organizing Committee for Midwest Virology Symposium 2019
2019 Judge at North Central District Science Day & the Marion Area Science and Engineering Fair (Marion, OH)
2017-2018 Secretary, MCDB Graduate Student Organization
2016-2017 General Member, MCDB MLS Speaker Committee
Awards and Honors:
2019 National Clinical Research Center for Child Health Travel Award (for outstanding oral presentations), 12th International Symposium on Aminoacyl-tRNA Synthetases
2018 2nd place, MCDB 3-Minute Thesis Event
People Filters: