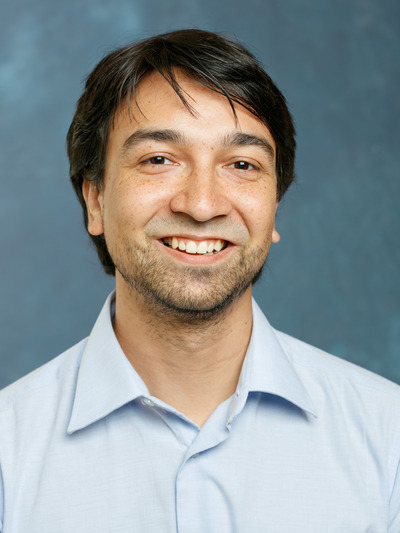 Matias Ignacio Montes Serey
Advisor: Dawn Chandler
Nationwide Children's hospital, WA5106
700 Children's Drive
Columbus, OH 43205

Areas of Expertise
Cancer Biology
Gene Expression
RNA Biology
Research:
The main goal of my research is to understand how RNA splicing is affected in cancer and how this can be manipulated for the development of new therapies. To this end, I study the alternative splicing of the protooncogene MDM2, a negative regulator of the known tumor suppressor p53. Another important part of my research is to elucidate the mechanisms of miRNAs post-transcriptional regulation, specifically their role as splicing regulators and how this relates to carcinogenesis.
Awards:
Graduate Student Research Award, Nationwide Children's Hospital Research Institute
OSU RNA Center for RNA Biology Graduate Student Fellowship
NCH Center for Childhood Cancer and Blood Diseases Travel Award
NCH Research Institute Trainee Travel Award
Publications:
RNA polymerase II components and Rrn7 form a preinitiation complex on the HomolD box to promote ribosomal protein gene expression in Schizosaccharomyces pombe. Montes M*, Moreira-Ramos S*, Rojas DA*, Urbina F, Käufer NF, Maldonado E. FEBS J. 2017 Feb;284(4):615-633.
A novel mouse model of rhabdomyosarcoma underscores the dichotomy of MDM2-ALT1 function in vivo. Comiskey DF Jr, Jacob AG, Sanford BL, Montes M, Goodwin AK, Steiner H, Matsa E, Tapia-Santos AS, Bebee TW, Grieves J, La Perle K, Boyaka P, Chandler DS. Oncogene. 2018 Jan 4;37(1):95-106.
RNA splicing and disease: animal models to therapies. Montes M, Comiskey DF Jr, Sanford BL, Chandler DS. Trends in Genetics. 2018. In-Press
Poster Presentations:
Montes M., Moreira-Ramos S., Rojas DA, Urbina F, Maldonado E. "In vivo and in vitro complex formation analysis on Schizosaccharomyces pombe HomolD box-containing promoters." EMBO conference: "Chromatin and epigenetics", Heidelberg Germany, 2015
Montes M., Comiskey D., McLaughlin J., Hussain R., Chandler D. "Splicing factors SRSF1 and SRSF2 regulation of MDM2 alternative splicing is conserved in mice and humans" Rustbelt RNA meeting, Cleveland OH, 2016
Montes M., Comiskey D., McLaughlin J., Hussain R., Chandler D. "Splicing factors SRSF1 and SRSF2 regulation of MDM2 alternative splicing is conserved in mice and humans" The Research Institute at Nationwide Children's Hospital Research, Columbus OH, 2016
Montes M., Comiskey D., Hussain R., Chandler D. "SRSF2: A splicing factor that positively regulates the alternative splicing of MDM2" MBCG Program 2017 Retreat, Columbus OH, 2017
Montes M., Comiskey D., Hussain R., Chandler D. "SRSF2: A splicing factor that positively regulates the alternative splicing of MDM2" OSUWMC Trainee Research Day, Columbus OH, 2017
Montes M., Comiskey D., Hussain R., Chandler D. "SRSF2: A splicing factor that positively regulates the alternative splicing of MDM2" OSUCCC–James 18th Annual Scientific Meeting, Columbus OH, 2017
Montes M., Sanford B., Bebee T., Rigo F., Houghton P., Goodwin A., Chandler D. "Modulating the insulin receptor splicing in pediatric sarcomas" Rustbelt RNA meeting, Indianapolis IN, 2017
Montes M, Comiskey D, Hussain R, Singh R, Chandler D. SRSF2: A Splicing Factor that Positively Regulates the Alternative Splicing of MDM2. Gordon Research Conference, Post-Transcriptional Gene Regulation, Newry ME, 2018
Montes M, Comiskey D, Hussain R, Singh R, Chandler D. SRSF2: A Splicing Factor that Positively Regulates the Alternative Splicing of MDM2. Rustbelt RNA meeting, Columbus OH, 2018
People Filters: