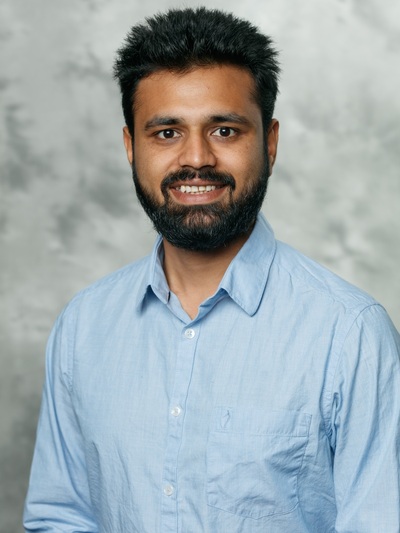 Shridhar Sanghvi
Advisor: Harpreet Singh
420 IBMR
460 Medical Center Dr.
Columbus, OH 43210
Heart failure (HF) is the highest contributor to mortality in the United States. HF is associated with certain cellular aspects like electrolyte and ionic imbalances.  Studies have shown that lower levels of serum chloride concentration were elicited in patients with chronic heart failure. However, little is known about the role of chloride in cardiac physiology. Therefore, our goal is to characterize the role of chloride in cardiac contractility and function. Using chloride sensors and whole-cell patch clamping, we will study the role of chloride ion in primary cardiomyocytes. To further understand the mechanism of chloride homeostasis in the cell, we will explore the chloride intracellular ion channel (CLIC) in cardiomyocytes. Previous studies in our lab have exhibited that CLIC5 and CLIC4 are localized in cardiac mitochondria. Specific changes in extracellular Cl- concentration might correlate to CLICs present on the mitochondria, thus affecting the mitochondria functioning. Reaction Oxygen Species (ROS) production is higher in CLIC5 knockout mice. Therefore, we will study the metabolic and electrophysiological changes in cardiomyocyte mitochondria in varying Cl- concentrations. This study will help clarify the role of chloride in cardiac function and develop better drug targets for chronic HF.
Publications:
Shubha Gururaja Rao, Devasena Ponnalagu, Sowmya Sukur, Harkewal Singh, Shridhar Sanghvi, Yixiao Mei, Ding J. Jin & Harpreet Singh. Identification and Characterization of a Bacterial Homolog of Chloride Intracellular Channel (CLIC) Protein. Sci. Rep., 2017,7,8500.
Archana Solanki, Shridhar Sanghvi, Ranjitsinh Devkar and Sonal Thakore. β-Cyclodextrin based magnetic nanoconjugates for targeted drug delivery in cancer therapy. RSC Adv., 2016,6, 98693-98707.
Jigar Soni, Shridhar Sanghvi, R.V Devkar, Sonal Thakore. Synthesis and evaluation of novel quinuclidinone derivatives as potential anti-proliferative agents. RSC Adv., 2015,5, 82112-82120.
Oral Presentations:
'Synthesis and evaluation of novel quinuclidinone derivatives as potential anti-proliferative agents' at Science Excellence, Gujarat University, Ahmedabad, India. 2015
Poster Presentations:
'Identification and Characterization of a Bacterial Homolog of Chloride Intracellular Channel (CLIC) Protein' at Drexel Discovery Day, Philadelphia, USA. 2017
 "Biological assessment of synthesized Quinuclidinone derivatives as potential anti-cancer agents: A study on human lung carcinoma cells" at 33rd Annual Meeting of The Society For Reproductive Biology and Comparative Endocrinology (SRBCE), Davangere, India. 2015
"Study of in vitro cellular exposure to ZnO nanoparticles: Application and Challenges" at Department of Microbiology and Biotechnology Center, M.S. University of Baroda, Vadodara, India. 2013
Leadership and Professional Experience:
Elected as International Graduate Student Representative for Biomedical Graduate Students Association (BGSA), Drexel University College of Medicine- 2017-18
Elected as a member of organizing committee of Graduate cultural events, Nirma University, Ahmedabad, India- 2012, 2013
Elected as a member of organizing committee of Undergraduate cultural events, St. Xavier's College, Ahmedabad, India- 2010, 2011
Awards and Honors:
Finalist for the Research Excellence Award in the Pre-Candidacy category, Drexel University,Philadelphia, USA. 2018
Won first prize in poster presentation on 'Cuminum cyminum prevents atherosclerosis inflammation: A study on RAW 264.7cells' at 9th National Level Science Symposium, Christ College, Rajkot, India. 2016
Won first prize in oral presentation on 'Synthesis and evaluation of novel quinuclidinone derivatives as potential anti-proliferative agents' at Science Excellence, Gujarat University, Ahmedabad, India. 2015
People Filters: