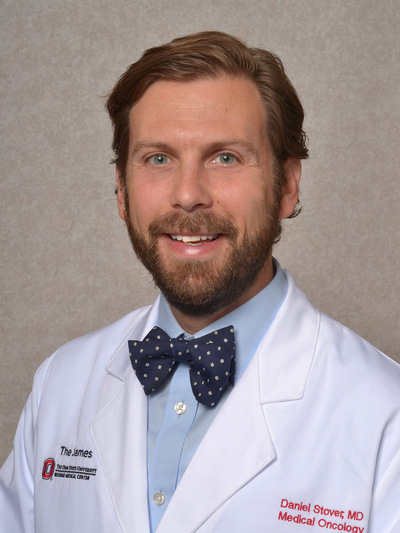 Daniel Stover
Assistant Professor, Medical Oncology
512 Biomedical Research Tower
460 W 12th Avenue
Columbus, OH
43210
Areas of Expertise
Bioinformatics
Cancer Biology
Education
MD: Vanderbilt University School of Medicine
Our research focus is clinical computational oncology – the application of computational approaches to leverage the immense available and potential data from tumor genomic profiling to improve outcomes for patients with cancer. The explosion of tumor genomic data rapidly advanced our understanding of cancer but requires new approaches to answer clinical questions. Specifically, we study resistance to therapy in breast and other cancers by integrating genomic data with patient features and outcomes. By studying patient samples, including on clinical trials, we seek to identify new mechanisms of drug resistance to standard agents as well as investigational agents such as immunotherapy. The ultimate goal of this work is to identify predictive markers for treatment response while identifying novel susceptibilities that allow us to overcome drug resistance. 
Mission: To improve outcomes of patients with cancer by:
— Generating new insights into the biology and therapeutic response of cancer by integrating genomic and biological data with patient characteristics, exposures, and outcomes
—Advancing genomic approaches from discovery to development to clinical application
—Encouraging partnerships, collaboration, and the personal, professional, and academic growth of all team members.
Vision: Our vision is a world in which all cancers are treatable and curable
People Filters: